HOME


WEB MAIL
BEACH
WEATHER
HOTELS/MOTELS
REAL ESTATE
VACATION
RENTALS
RESTAURANTS
DINING
OUR TOWNS
FISHING - BOATING
CHARTER BOATS
SHOPPING
NIGHTLIFE
THE OCEAN
THE BAY


Delaware Apparel
Bethany Beach Fourth of July Parade
---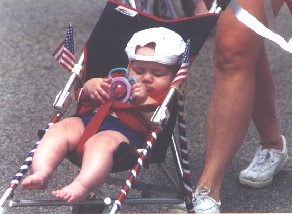 The Fourth of July Parade in Bethany Beach, Delaware annually brings together a conglomeration of townspeople and vacationers in what is truly a community, family event.

The hour-long celebration features well-designed floats, parade units, marchers of all shapes and ages, clowns, and a sea of 1,200 bicycles ridden by kids who pick up their decoration kits the morning of the parade.

Thousands bring their chairs up from the beach and line the town's streets. The day concludes with an evening concert at the bandstand and fireworks on the beach.
---
A number of floats are entered each year in the Bethany Beach Fourth of July Parade.
Some are simple entries consisting of club or group members riding aboard flatbeds or wagons, while others are more sophisticated, such as this entry of a pirate's ship in the 1996 parade.
---
Bethany Beach Fourth of July Parade Units
Like all community parades, civic groups come from far and wide, as well as locally, to participate and promote their organization's activities.

This group of Shriners from Wilmington, Del., has obviously had some practice in parades as it raced figure eights up and down the streets of Bethany.
---
Fourth of July Parade Marchers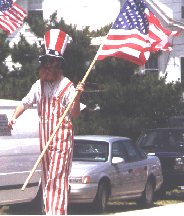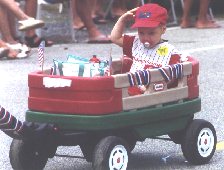 ---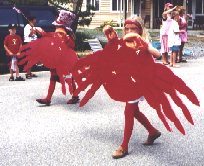 As these photos will attest, there is no limit to the imaginations of the entrants in the Bethany Beach Fourth of July Parade.
Fourth of July Parade Clowns
---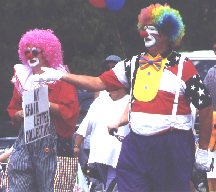 No parade is complete without the Clowns, and the 1996 Bethany Beach Fourth of July Parade brings in its share of the fuzzy-haired, red-nosed pranksters.

This pair of clowns was just one of many individual marching groups that joined in the parade, which is open to anyone who wants to decorate themselves or their bikes or their wagons or their floats -- even their baby's stroller.
---
Fourth of July Parade Bicycles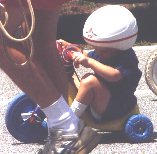 Bicycles dominate the annual Bethany Beach Fourth of July Parade. Individuals, families, even entire neighborhoods decorate their bikes and parade through town. Many kids pick up their bicycle decorating kits from parade organizers the morning of the parade and ready to roll by the noon starting time.

---
If you would like your business listed on Beach-net Contact us here!
Delaware Web Design & Internet Advertising - Coastal Images Inc.
Home | The Ocean | The Bay | Things To Do at the Beach | Restaurants & Dining | Hotels - Motels & Lodging Shopping | Beach Directions | Our Towns | Beach Real Estate & Vacation Rentals | What's New
What's Here | Beach Weather | Our Advertisers | Beach Maps