HOME


WEB MAIL
BEACH
WEATHER
HOTELS/MOTELS
REAL ESTATE
VACATION
RENTALS
RESTAURANTS
DINING
OUR TOWNS
FISHING - BOATING
CHARTER BOATS
SHOPPING
NIGHTLIFE
THE OCEAN
THE BAY


Delaware Apparel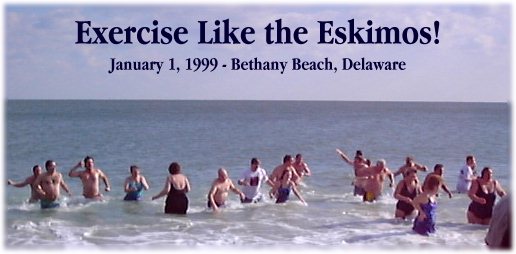 Eskimo Swim Pictures
Brrrrrrrrrrrrrr!!!!!!!!!!!! ...
Call Town of Bethany Beach: (302) 539-8011
The third annual Exercise Like the Eskimos attracted several dozen crazed swimmers and nearly 1,000 smarter spectators for the 1999 plunge into the frigid Atlantic Ocean in Bethany Beach, Delaware on Jan. 1, 1999.
With water temperatures in the 40s and air temperatures in the upper 20s to low 30s, the event sponsored by the Bethany-Fenwick Area Chamber of Commerce brought individuals and team swimmers to Bethany at high noon.
Following an ocean rescue demonstration by the U.S. Coast Guard helicopter team, the swimmers disrobed down to their trunks, one-pieces, bikinis, and even Speedos® and ran headlong into the freezing water. Then ran out faster, looking for towels, bathrobes and warm hugs.
Proceeds from the Eskimo swim benefit the chamber's scholarship fund.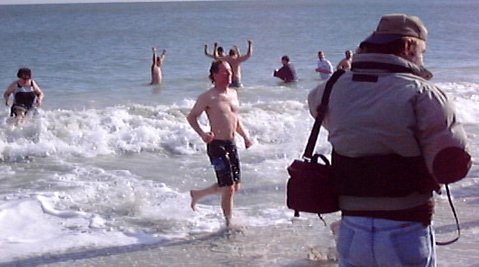 There was little time for celebrating (above background)
before the frigid ocean temperatures took their toll (below).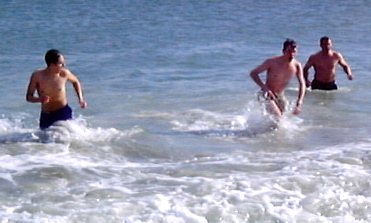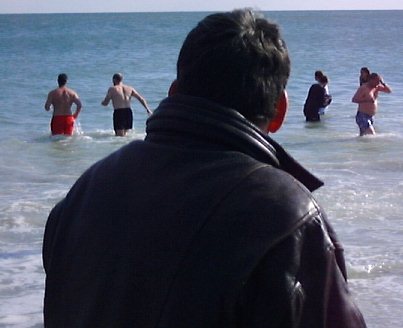 Most of the crowd of 1,000 felt it was better to watch than participate.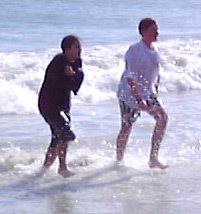 Some swimmers took the cold better than others.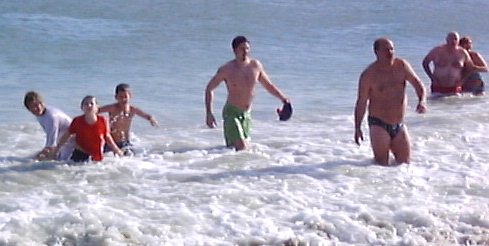 There seems to be no standard attire when you're an eskimo swimmer.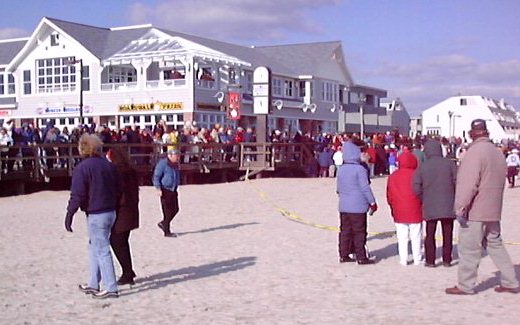 The biggest crowd in the event's three years lined the beaches and boardwalk in Bethany.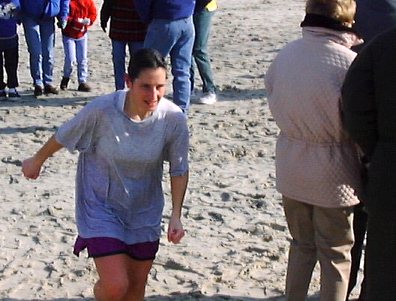 After swimming, the frantic search for towels, clothes and hot refreshments was on.
| | |
| --- | --- |
| After taking the plunge, swimmers hastily retreated to their families for bathrobes, towels ... anything that would warm them up in a hurry. | |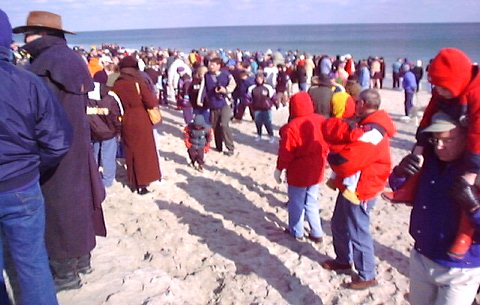 After the show, everyone, including the hordes of witnesses on the beach, headed for warmth.
---
If you would like your business listed on Beach-net Contact us here!
Delaware Web Design & Internet Advertising - Coastal Images Inc.
Home | The Ocean | The Bay | Things To Do at the Beach | Restaurants & Dining | Hotels - Motels & Lodging Shopping | Beach Directions | Our Towns | Beach Real Estate & Vacation Rentals | What's New
What's Here | Beach Weather | Our Advertisers | Beach Maps