HOME


WEB MAIL
BEACH
WEATHER
HOTELS/MOTELS
REAL ESTATE
VACATION
RENTALS
RESTAURANTS
DINING
OUR TOWNS
FISHING - BOATING
CHARTER BOATS
SHOPPING
NIGHTLIFE
THE OCEAN
THE BAY


Delaware Apparel
Seafood Storage, Preparation and Cooking
---
Order Authentic Maryland Crab Cakes Online!
Click here to visit a new website from the University or Delaware College of Marine Studies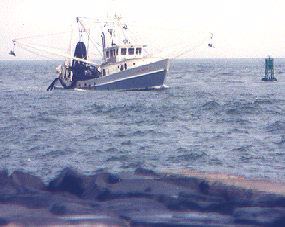 Photo: The Catch of the Day comes into the Ocean City Inlet after a day on the ocean.

It's always good to cook fresh seafood within two days of purchase. If that's not possible, here are some tips to help you store it.
Store live oysters, clams and mussels in the refrigerator. Keep damp by placing in shallow bowl with a wet paper towel draped over them.
Keep fresh shucked oysters, scallops and clams in their own container and store in the refrigerator. For best results, surround the container with ice.
Store live lobster and crab in the refrigerator in moist packaging, but not in airtight containers.
Just before opening and cooking scallops, mussels, clams or oysters in the shell, they should be scrubbed under cold water.
Handle all seafood with care. Seafood with bruises or punctures will spoil more rapidly.
More info on preparing and cooking fresh fish:
Baking Fresh Fish
Baking is a particularly easy way to prepare fish.
To bake fish, preheat your oven to 425 degrees.
Rinse fish under cold water and pat dry with paper towels.
Lightly oil a shallow baking dish and place fish skin side down.
Season as desired.
Bake 6 to 12 minutes per inch thickness. Add 5 minutes to total cooking time if fish is being baked in a thick sauce or wrapped in foil.
Broiling Fresh Fish
To broil fish, preheat broiler pan.
Rinse fish under cold water and pat dry.
Season as desired.
Lightly grease the hot broiler pan with a non-stick spray.
Arrange fish, skin side down, in a single layer.
Place pan about 4 to 5 inches from the heat.
Broil 6 to 12 minutes per inch of fish.
Grilling Fresh Fish
Rinse the fish with cold water and pat dry.
If desired, marinade the fish in the refrigerator for about 2 hours.
Season as desired.
Lightly grease foil or unheated grill rack.
Cooking time is 6 to 12 minutes per inch thickness.
Turn fish halfway through estimated time.
Grill the fish until it is just opaque throughout.
As a rule, shellfish cook faster than fin fish.
Microwaving Fresh Fish
Microwave the fish 3-6 minutes per pound in a 600-750 watt oven on high power. Thick fillets and whole fish take slightly longer.
Place the skin side down. Slash the skin to prevent curling.
Place thicker pieces along the outer edge of baking dish so the fish will cook evenly.
Cover the cooking dish tightly with plastic wrap.
Allow the fish to stand for 5 minutes.
Vent one corner of the plastic to allow steam to escape.
Pan-Frying, Sauteing Fresh Fish
Sauteing and pan-frying are ideal for thinner fish fillets. Oysters, shrimp, scallops and squid also lend themselves quite well to this cooking method.
To Saute your Fresh Fish
Rinse fish with cold water and pat dry.
Lightly flour the fish.
Using heavy skillet, add a combination of 1 tablespoon butter and 1 tablespoon cooking oil and heat over medium high heat.
Add fish to the pan of heated oil and butter mixture, being careful not to crowd the fish because it will become soggy.
Cook 6 to 12 minutes per inch thickness.
To Pan-Fry your Fresh Fish
Place cooking oil into heavy skillet to a depth of 1/8 to 1/4 inch.
Coat fish with egg and milk mixture, then coat breadcrumbs, cornmeal,
crushed cereal or crackers.
Fry only as many fish as you can fit into the skillet.
Fry on high heat for 6 to 12 minutes per inch of thickness.
Steaming Fresh Fish
Steaming is excellent for those who want to avoid adding extra fat to their diet. You can use a standard steamer or improvise by placing a cake rack in a roasting pan.
To prepare fish for steaming, rinse under cold water and set on the steaming rack.
Be certain that the fish is above the liquid and not resting in it.
Steam 6 to 12 minutes per inch of thickness.
Seafood Recipes
CRABCAKE RECIPES
---
Webmaster's Note:
Sherry Johns of Breton Bay in southern Maryland and Dorsey Marshall of Dorsey's Fish & Oyster House have graciously provided us with their "own personal favorite crabcake recipe". Thanks Sherry and Dorsey. To provide your favorite seafood recipe for our readers,
e-mail the recipe
with your name and hometown.
JOHNNY CAKES CRABCAKE RECIPE

2 lbs. lump crabmeat - picked over

1 small onion finely chopped

1 large celery stalk finely chopped

4 tbsp. unsalted butter

1/4 cup sour cream

2 eggs beaten

1 cup shredded Monterey Jack cheese

1/4 cup fresh parsley chopped

2 tbsp. worcestershire sauce

1 lbs. large shrimp pureed

salt and pepper to taste

In skillet over medium heat, melt butter add onion and celery and saute` until soft. Place in large bowl to cool. Add eggs and sour cream and mix together. To the bowl add cheese, parsley, worcestershire sauce, shrimp, salt and pepper. Mix well.Then fold in crabmeat and shape into cakes. Place on a baken sheet sprayed with a non fat cooking spray and broil 5 to 10 minutes a side until they are done. ENJOY! John Ewasco Wilmington, De.
SHERRY JOHNS' FAVORITE CRABCAKES
1lb crabmeat
1/4 cup finely chopped green pepper
1/4 cup finely chopped onion
1/4 cup mayo or, better yet, helmons mayo
1 egg
1/2 to 3/4 cup bread crumbs
1 tbsp. old bay seasoning
1/2tsp. dry mustard
Dash of Worcestershire sauce
Combine all ingedients in a large bowl (don't get carried away with bread crumbs, just enough to hold cakes together). Make into patties and fry in butter -- for lower fat use cooking spray.
DORSEY'S FISH & OYSTER HOUSE CRAB CAKES
1 Lb. Lump Backfin Crabmeat
1 - 2 t. Old Bay (to your taste)
2 T. Jiffy Baking Mix
1 T. Parsley Flakes
2 T. Mayonnaise (generous)
1 T. Prepared Mustard
1 Beaten Egg
1/4 t. Worcestershire Sauce
Mix dry ingredients, then add remaining items & pour over lump crabmeat. Gently mix so not to break up lumps. Scoop out with ice cream scoop and form each in a ball. Should make about 6 - 8 nice Crab Cakes. Deep fry or broil until light brown.
Poaching Seafood
John H. Tu submitted these directions for poaching seafood.
"This is a generic recipe on how to poach seafood. The resultant seafood is useful for any number of cold recipes such as seafood salads. The beauty of the recipe is how little work it takes and how difficult it is to overcook the seafood. The only caveat is that the seafood being cooked should be of moderately firm flesh, which includes most shellfish and crustaceans. Works particularly well with squid and conch."
The Recipe:
In a large saucepan or dutch oven, add your favorite herbs (tarragon, oregano, thyme, basil, black pepper, etc.) to 5 times as much water as your seafood.
Bring to simmer. DO NOT bring to boil. If you do bring to boil, take it off the heat and allow it to cool somewhat before proceeding further.
To the hot, but not boiling water, immediately dump your cleaned seafood, put the cover on the pot, stir quickly, and take it off the heat.
Put the pot in a corner of the stove.
When the pot and stock has cooled to the touch, your seafood is ready.
As an added benefit, you have this wonderful seafood stock that can be frozen and used for a bisque or chowder recipe at sometime in the future.
Oyster Wraps Recipe
Lelo "Lulu" Washington of Port Arthur, Tx submitted these directions for Oyster Wraps.
The Recipe:
2-3 cans of smoked oysters
Box of toothpicks

1/4 tsp. of garlic powder

1/4 tsp. of celery powder

1/4 tsp. parsley flakes

1 pound of thin sliced bacon

Dash of Worcheshire sauce

Season smoked oysters with garlic powder, celery powder. parsley flakes and a
dash of Worcheshire sauce. Lightley mix together. Cut thin sliced bacon in
half and wrap around smoked oysters. Place toothpick in each to secure bacon around oyster.

Broil until bacon is cooked! Can be eaten with a simple chef salad or can be
placed into a red cabbage for a festive table center piece for the holidays!!

Enjoy!!
Feta Baked Salmon
From Marchand Bagby, Anchorage, Alaska.
The Recipe:

2 C. Feta Cheese crumble
2 Tbsp. Minced Garlic (more if you love garlic)
3/4 C. Balsamic Vinaigrette Dressing (fred meyer brand)
Mix this all together in a bowl, then spread onto the salmon
of your choice (it's really good on reds) and bake at 350 until salmon is done!
About 20-30 min...
I hope you enjoy this little kick to your Salmon...it's also great with halibut, scallops and swordfish.

Enjoy!!
---
If you would like your business listed on Beach-net Contact us here!
Delaware Web Design & Internet Advertising - Coastal Images Inc.
Home | The Ocean | The Bay | Things To Do at the Beach | Restaurants & Dining | Hotels - Motels & Lodging Shopping | Beach Directions | Our Towns | Beach Real Estate & Vacation Rentals | What's New
What's Here | Beach Weather | Our Advertisers | Beach Maps