HOME


WEB MAIL
BEACH
WEATHER
HOTELS/MOTELS
REAL ESTATE
VACATION
RENTALS
RESTAURANTS
DINING
OUR TOWNS
FISHING - BOATING
CHARTER BOATS
SHOPPING
NIGHTLIFE
THE OCEAN
THE BAY


Delaware Apparel
Tennis at the Delaware Maryland Beach Resorts
Tennis & Tennis lessons at the Delaware Maryland beach continues to be a popular sport & passtime with a number of public and private courts, both indoor and outdoor, with a wide variety of surfaces.

Follow these links for information about playing tennis during your vacation at the Delaware-Maryland beach resorts.

Marty Godwin Tennis
Delaware and Maryland Tennis Lessons

Where to play at the
Delaware-Maryland coast

---

Tennis Professionals at the
Delaware-Maryland
Beach Resorts

Marty Godwin Tennis
7 Glade Farm Drive
Rehoboth Beach, Delaware 19971
Cell: 310-418-5000
e-mail: martybgodwin@aol.com

---

Sea Colony Tennis

39359, Racquet Ln,
Bethany Beach, DE 19930
(302) 539-4488

---

Bayside Tennis Club

Kent Avenue
Bethany Beach, DE 19930
(302) 462-5204
---
Tennis FAQ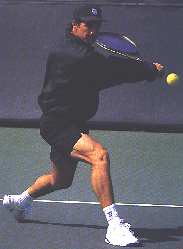 Q: What is the best racket?
A:
It depends on your game. If you are a serve and volleyer, a smaller, light head will be best. If you are a base-liner, an oversized, heavy head is appropriate. If you have tennis elbow, you need a flexible racket. For more power, use a stiffer racket. Or if you have enough power, try a more flexible racket. The best answer, though, is to demo the racket before buying it to be sure you're comfortable with it.
Q: What size grip do I need?
A:
Hold the racket as you would normally and place the index finger of your other hand between the base of the thumb and fingertips of the racket head. If there is a gap, the grip is too big. If it overlaps, it is too small. It should fit comfortably.
Q: When should I re-string my racket?
A:
Re-string after approximately 35 hours of play. Do not wait for the string to break. Only use a stringer who belongs to the United States Racquet Stringing Association and is a Certified Racquet Technician to check out your racket and strings.
Q: Should I take tennis lessons?
A:
Yes. Do not allow bad habits to develop.
Q: Where can I take tennis lessons?
A:
From a professional who is certified by the United States Professional Tennis Association or the United States Professional Tennis Registry and who has a "Pro" rating.
---
If you would like your business listed on Beach-net Contact us here!
Delaware Web Design & Internet Advertising - Coastal Images Inc.
Home | The Ocean | The Bay | Things To Do at the Beach | Restaurants & Dining | Hotels - Motels & Lodging Shopping | Beach Directions | Our Towns | Beach Real Estate & Vacation Rentals | What's New
What's Here | Beach Weather | Our Advertisers | Beach Maps