Fenwick Island Lighthouse, Delaware
---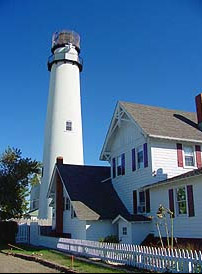 Built in 1858, the Fenwick Island Lighthouse has warned ships away from the Fenwick Shoal for 138 years.
At 89 feet in height, the lighthouse cost $23,748.96 to build. The lens that magnifies the light was imported from France.
The light originally burned whale oil before switching to kerosene. It was tended by two men who lived with their families in houses on either side of the lighthouse.
Today, the light operates automatically by electricity.
Summer Schedule:
The lighthouse grounds are typically open May 1 to Columbus Day. Cosed Wednesdays. For our daily summer time schedule please visit our Website. Visitors are allowed in the base to view a mini-museum and often a volunteer is available to answer questions and give historical information on the Lighthouse. There is also a Salt Pot and a Gift Shop on the premises. Just outside the fence of the Lighthouse, is the Transpeninsular Stone, which is on the DE and MD state line.
"The Fenwick Island Lighthouse has long been an important landmark along the Delaware coast. Its historical significance remains, even if its utility as a navigational aid is past. It should be maintained as an important link to Delaware's maritime history."
-- Governor Pete DuPont, February 1979
***Please note: Climbing the Lighthouse is prohibited.
Volunteers are always needed and memberships are available.

Admission is free. However, donations are always welcomed and appreciated.

Address donation to:
New Friends of the Fenwick Island Lighthouse
P.O. Box 1001
Selbyville, Delaware 19975

More Information:
The Fenwick Island Lighthouse is owned by the state of Delaware and maintained by the private, non-profit New Friends of the Fenwick Island Lighthouse.

The organization is open to all and depends on dues and contributions to maintain the lighthouse. For more information, call Winnie Lewis, President, at 302-436-8100 or visit www.fenwickislandlighthouse.org
---
If you would like your business listed on Beach-net Contact us here!
Delaware Web Design & Internet Advertising - Coastal Images Inc.
Home | The Ocean | The Bay | Things To Do at the Beach | Restaurants & Dining | Hotels - Motels & Lodging Shopping | Beach Directions | Our Towns | Beach Real Estate & Vacation Rentals | What's New
What's Here | Beach Weather | Our Advertisers | Beach Maps