HOME


WEB MAIL
BEACH
WEATHER
HOTELS/MOTELS
REAL ESTATE
VACATION
RENTALS
RESTAURANTS
DINING
OUR TOWNS
FISHING - BOATING
CHARTER BOATS
SHOPPING
NIGHTLIFE
THE OCEAN
THE BAY


Delaware Apparel
Milford Delaware ... A Quiet Resort
Delaware's fastest growing community!
---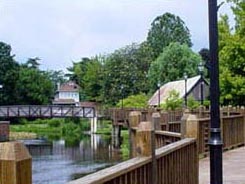 Milford, Delaware is centrally location in the southern part of the state, approximately 18 miles south of Dover, the State capital, 20 miles north of Rehoboth Beach, Delaware's #1 resort town, and 52 miles from Wilmington, the largest city in the state.

Two dual highways, U.S. Route 113 and State Route 1, provide easy access to the beach resorts for the numerous tourists from the New York, Philadelphia and Baltimore/Washington areas who flock to the ocean each summer. The Mispillion River, which bisects the downtown area, divides Milford into two counties. Kent County lies on the northern side of the river, Sussex County is to the south.
Milford Town & Chamber

Schools

Medical Facilities

Real Estate Communities

Builders

Recreational & Cultural Facilities

Educational Facilities

Shopping Facilities

Specialty Shops
Farmer's Market

Approximate Commute Times

Wilmington, DE (1 hour 20 minutes)
Philadelphia, PA (1 hour 50 minutes)
Baltimore, MD (2 hours)
Washington DC (2 hours 10 minutes)
Rehoboth, DE (30 minutes)
Ocean City, MD (1 hour)
---
If you would like your business listed on Beach-net Contact us here!
Delaware Web Design & Internet Advertising - Coastal Images Inc.
Home | The Ocean | The Bay | Things To Do at the Beach | Restaurants & Dining | Hotels - Motels & Lodging Shopping | Beach Directions | Our Towns | Beach Real Estate & Vacation Rentals | What's New
What's Here | Beach Weather | Our Advertisers | Beach Maps