HOME


WEB MAIL
BEACH
WEATHER
HOTELS/MOTELS
REAL ESTATE
VACATION
RENTALS
RESTAURANTS
DINING
OUR TOWNS
FISHING - BOATING
CHARTER BOATS
SHOPPING
NIGHTLIFE
THE OCEAN
THE BAY


Delaware Apparel
The Atlantic Mako Shark
The Atlantic Mako Shark or Isurus oxyrinchus - is one of the largest commonly seen sharks in the western Atlantic and one of the best to eat.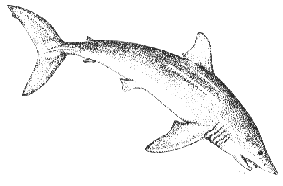 One of the largest ever recorded was 12 feet, 2 inches in length and weighed 1,061 pounds.
Very little is known of the Mako's diet other than it prefers other fish and often preys on schools of small fish. Makos can be aggressive toward people and should command your respect at all times.
The Atlantic Mako is an exciting gamefish because of the tremendous leaps and runs it takes when hooked.
Sharks Common to the Delaware-Maryland Coast

Number of attacks in Delaware from the International Shark Attack File
* Much of the information on this page courtesy of the University of Delaware Sea Grant Marine Advisory Service.
---
If you would like your business listed on Beach-net Contact us here!
Delaware Web Design & Internet Advertising - Coastal Images Inc.
Home | The Ocean | The Bay | Things To Do at the Beach | Restaurants & Dining | Hotels - Motels & Lodging Shopping | Beach Directions | Our Towns | Beach Real Estate & Vacation Rentals | What's New
What's Here | Beach Weather | Our Advertisers | Beach Maps