HOME


WEB MAIL
BEACH
WEATHER
HOTELS/MOTELS
REAL ESTATE
VACATION
RENTALS
RESTAURANTS
DINING
OUR TOWNS
FISHING - BOATING
CHARTER BOATS
SHOPPING
NIGHTLIFE
THE OCEAN
THE BAY


Delaware Apparel
The Blue Crab in
Delaware, Maryland
---
Order Authentic Maryland Crab Cakes Online!
Click here to visit a new website from the University or Delaware College of Marine Studies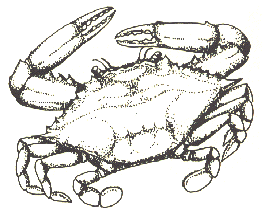 Crabbing has long been associated with the Delaware and Maryland beaches.

Many vacation memories have been made crabbing from a boat, a pier or a mud bank trying to tempt the famous Blue Crab into a net with a chicken neck or fish head on the end of a string.

Always, whether the crabs have been caught by hand or bought at a local restaurant, the goal is the same -- a table covered with newspapers and hot, spicy steamed crabs.

These pages will teach you a little about the fine art of crabbing and offer a couple of recipes for cooking this local delicacy.

Note: This information is provided courtesy of the Graduate College of Marine Studies at the University of Delaware.
Catching Blue Crabs
Cooking Blue Crabs & Crab Recipes
Life of a Blue Crab
Delaware and Maryland Crab Houses
If you would like your business listed on Beach-net Contact us here!
Delaware Web Design & Internet Advertising - Coastal Images Inc.
Home | The Ocean | The Bay | Things To Do at the Beach | Restaurants & Dining | Hotels - Motels & Lodging Shopping | Beach Directions | Our Towns | Beach Real Estate & Vacation Rentals | What's New
What's Here | Beach Weather | Our Advertisers | Beach Maps