HOME


WEB MAIL
BEACH
WEATHER
HOTELS/MOTELS
REAL ESTATE
VACATION
RENTALS
RESTAURANTS
DINING
OUR TOWNS
FISHING - BOATING
CHARTER BOATS
SHOPPING
NIGHTLIFE
THE OCEAN
THE BAY


Delaware Apparel
Sharks - Delaware & Ocean City Maryland
---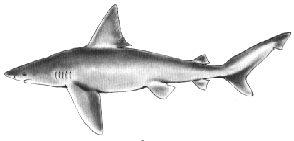 Note: This information provided courtesy of the Graduate College of Marine Studies at the University of Delaware.
As many as 62 species of shark roam the eastern waters of North America, including the Delaware and Maryland coasts.
Some stay in the high seas, far from shore, while others live close to the bottom, but many inhabit shallow waters in estuaries and close to shore.
Click on the following pages for detailed information about the common kinds of sharks found off our coast.

How Sharks Live & Work
Sharks Common to the Delaware-Maryland Coast

Number of attacks in Delaware from the International Shark Attack File
If you would like your business listed on Beach-net Contact us here!
Delaware Web Design & Internet Advertising - Coastal Images Inc.
Home | The Ocean | The Bay | Things To Do at the Beach | Restaurants & Dining | Hotels - Motels & Lodging Shopping | Beach Directions | Our Towns | Beach Real Estate & Vacation Rentals | What's New
What's Here | Beach Weather | Our Advertisers | Beach Maps