Ocean City, Maryland
Fabulous Winterfest of Lights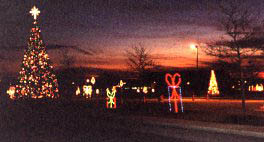 The Town of Ocean City has assembled an awesome array of holiday light displays for its annual Winterfest of Lights.
Now with more than 1,000,000 lights and hundreds of displays, the 2 1/2-month celebration draws thousands of visitors to Northside Park at 125th Street and bayside and the Ocean City Inlet.
From mid-November through January, visitors will see unique light setups befitting a seaside resort, with Surfing Santas, animated Sharks, Santa hooking a Marlin from a charter boat, jumping Marlin, and Santa playing softball.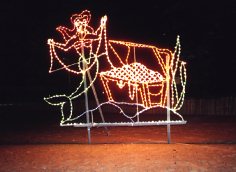 At Northside Park, the centerpiece of the celebration, you're welcomed by a magnificent sand sculpture and the city's 60-foot Christmas tree.
You'll also see Santa Claus at his workshop there in the weeks before Christmas. New for 1996-97 were a wedge of Swans, six Geese laying eggs, and a Skull Mountain display to accompany the Peter Pan and Captain Hook figurines from previous years.
One of Ocean City's boardwalk trains will carry you down the paths of displays at Northside Park for $4 for adults and children 11 years of age and younger are free.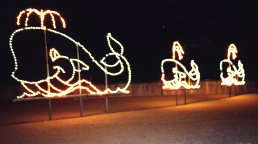 As you can imagine, a great deal of planning and work goes into the making of such an extravaganza.
It takes Ocean City workers 42 days to set up all of the displays.
Work begins in October as workers hang the brackets necessary to hold the Boardwalk banners and begin electrical work and construction of the support structures for the light displays, some of which contain 5,000 bulbs.
Fourteen employees from the Ocean City Department of Recreation and Parks and another nine employees from the Town of Ocean City combine to light the town up.

Public Works employees use aerial trucks to install decorations on the light poles from 15th to 33rd streets and another truck is needed to erect the 60-foot Christmas tree at Northside Park.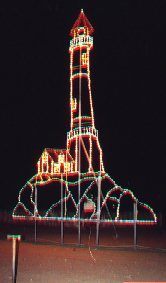 The majority of the displays must be assembled on-site and it takes three men and their equipment more than 40 hours to install the mammoth light display.
Then there is the 30-foot lighthouse scene at the Inlet, which requires the assistance of 10 men to lift.
Sixteen miles of wire criss-crossing the 10-mile long beach power the lights, which cost the city more than $25,000 in electric bills.
After all of the lights are turned on to start the celebration, they are tested again each morning to make sure they are still working.
---
If you would like your business listed on Beach-net Contact us here!
Delaware Web Design & Internet Advertising - Coastal Images Inc.
Home | The Ocean | The Bay | Things To Do at the Beach | Restaurants & Dining | Hotels - Motels & Lodging Shopping | Beach Directions | Our Towns | Beach Real Estate & Vacation Rentals | What's New
What's Here | Beach Weather | Our Advertisers | Beach Maps